Step 1.
Contact your family or friends and decide who is available to play and when.
Ask your friends to join you for a card game (maybe consider setting up a WhatsApp / Messenger group, for example) and decide on a date and time you want to play
Step 2.
Sign in via
"My Games"
, to display the Game Table Management screen.
You should always login to your own Card Table via "My Games".
This gives you access to your "Game Table Management" screen (where you can setup your player's names etc.)
If you login via Game Code - you will not be able to manage the playing order or player name badges.
Step 3.
Make a note of your Game Code(s) shown in Game Table Management. Add the names of the players who will be joining you.
If you leave the Player's names blank, they will be displayed in the game as "Player 1, Player 2", etc.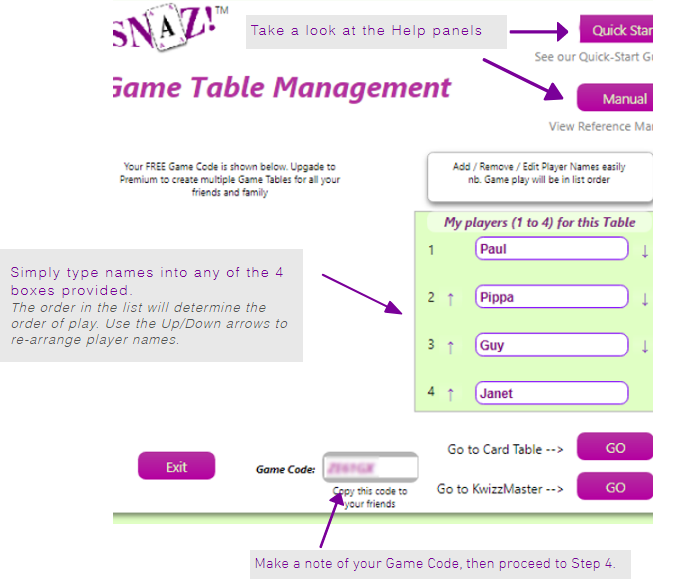 Step 4.
Tell your friends the Game Code, and ask them to visit "www.mysnaz.com".
Your friends DO NOT need to be Snaz!™ members - they simply sign in to your Virtual Card Table with the Game Code you gave them. They can follow the links on the Snaz!™ homepage for "Already have a Game Code?"

Finally...
Click "Go to Card Table" button from the Game Table Management screen, then wait for your friends to arrive.
Then you will see the "Game Table Entry" screen. This is the same screen that your invited players will see when they enter using the Game Code you told them in Step 4.
Select your name from the player list, then enter into your Virtual Card Table.