Just like our app, our Terms of use are pretty simple too!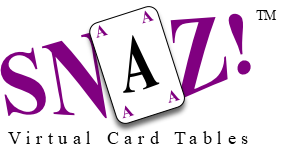 TERMS OF USE
Here's the stuff you need to know

Snaz! Virtual Card Tables is intended for leisure use among your friends and family. It is absolutely NOT to be used for gambling or any other commercial use.


Snaz! and its staff cannot be held responsible for any loss or any damages caused by any failure or technical error that may occur during a card game. We do our level best to provide a workable table and card deck for your pleasure, and it's really unlikely that your cards will disappear - but if they do, we're sorry, but you will just have to reset and start a new game.


Snaz! only stores your personal details to the extent needed to make the game work. Snaz! will use your email address for essential communications such as account verification or relevant account management activities.


In addition, Snaz! may message you occasionally about Snaz! game updates or new features or subscription plans - however, you will always have the option to "Unsubscribe" from such marketing messages.


Snaz! reserves the right, at its sole discretion, to terminate the subscription of any member at any time and without giving any reason.


Snaz! is providing an online service by giving access to its Virtual Card Table Simulation. Snaz! may, without prior notice, change the service; stop providing the service or any features of the service we offer; or create limits for the service. We may permanently or temporarily terminate or suspend access to the service without notice and liability for any reason, or for no reason.


Snaz! took many hundreds of man hours to build and therefore takes its intellectual property rights very seriously. The Snaz! service, the game application and all materials therein, including, without limitation, software, images, text, graphics, logos, patents, trademarks, service marks, copyrights, photographs and all Intellectual Property Rights related thereto, are the exclusive property of Tony Davies t/a Snaz!. Except as explicitly provided herein, nothing in these Terms shall be deemed to create a license in or under any such Intellectual Property Rights, and you agree not to sell, license, rent, modify, distribute, copy, reproduce, transmit, publicly display, publicly perform, publish, adapt, edit or create derivative works thereof.


YOUR PRIVACY & OUR COOKIES
Snaz! takes your privacy very seriously. We only store sufficient information about you to make our app functional, and to help us manage your services. Under no circumstances will we share your information with any Third Party, unless it is necessary for providing the Service (ie submitting a payment for a subscription, for example).


The Snaz! website places "cookies" on your device for the sole purpose of function and service provision. We Do Not currently employ any Third Party or Marketing cookies - but if we do so in the future, we will ask your permission prior to implementing any.